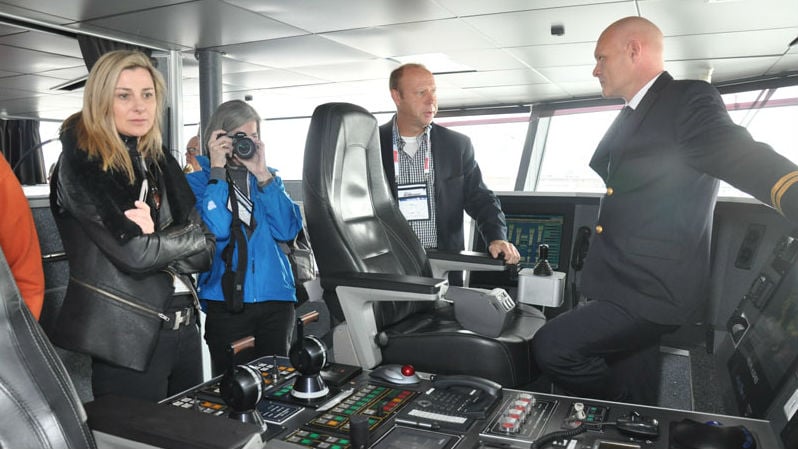 Interferry's 40th annual conference in Copenhagen earlier this month saw a review of some of the latest innovations in ship technology.
Oskar Levander, VP for innovation, engineering and technology at Rolls-Royce Marine in Finland,  surveyed the prospects for unmanned remote-controlled ships – notably small ferries and cargo vessels – which he argued would make operations safer and more efficient while reducing crew costs. "Unmanned is a trend and, as we have seen with drones, metro systems and cars, society is getting ready to accept it," said Levander, who emphasized that "this is not just a prediction, it's on the drawing board today."
Looking ahead, he confided: "It's not going to happen overnight and we are still some way from big ocean-going ships with no crew. Meanwhile local and then coastal applications provide a road map, but this also depends on getting regulations through because it's not allowed now. We must work to make sure it's covered in the next revision of SOLAS."  The most challenging aspect of remote control would concern safety management – ensuring that the onboard systems are so reliable that they need never be touched.
Ships would be operated from a remote control center with a 360 degree screen highlighting traffic movements. "Instead of 20 people you could do it with two," Levander continued, adding that the next level of technology – autonomous operation – would then allow many more ships to be handled at one time. He stressed that remote control did not necessarily mean unmanned – crew would concentrate on customer-focused, safety and emergency duties.
Anders Orgard Hansen, managing director and owner of Denmark's OSK-Ship Tech, explained how 3-D printing would transform the industry by enabling more consistency in steel-based production with zero labor costs. "Siemens has predicted 50 percent cheaper and 400 percent faster in the next five years," he revealed.  "In future we will have local production and distribution in all countries so it's a totally different modality – collect on your bike!"  Hansen said the process would enable spare parts to be supplied without delay and with minimal delivery charges, noting that 27 Dutch companies in the Port of Rotterdam have set up a 3D spares printing consortium.
Tuomas Riski, CEO of Finland's Norsepower, described his company's tower-shaped Rotor Sail, an auxiliary wind propulsion system for large vessels that saved up to 50 percent of service power and required ten times less area than other sail systems to provide equivalent forward thrust. He said the system was installed in seven hours on the Bore Line ro-ro Estraden last November for trials that had verified a 1.1 tons per day reduction in fuel consumption – equivalent to five percent less fuel per year – and a payback period of five years. Riski projected fuel savings of up to 10 percent for typical ferry configurations.
Bruno Bouckaert, commercial director of Netherlands-based Hull Vane, presented case studies on the fuel-saving beneficial lift force of the company's hydrofoil-type, stern-fitted wing device, which is aimed at the ferry, small cruise ship and offshore markets. Three installations to date had proven resistance reductions of 8-20 percent. A current study for the P&O Ferries Irish Sea ro-ro Norbank indicated a seven percent cut in resistance at 22 knots, annual fuel savings worth €270,000 and payback in 2 to 2.5 years.
Electric ferries: eco-friendly costcutters
A session dedicated to electric ferries underlined major cost and environmental benefits.
Eliza Gagatsi, senior project manager at the Hellenic Institute of Transport, introduced "a game-changing approach to medium range ferry connections" – the fully electrified E-ferry, a €21.3m E.U.-backed project featuring the world's largest maritime battery pack, with energy derived from wind power or other renewables. Nine partners are developing a demonstration vessel that is due to be trialled on two routes in the Danish Baltic from 2017 to validate competitive speed, capacity and reliability.
Ulf Tudem, general manager of Norway's Effect Ships International, outlined another multi-partner E.U.-backed initiative, the BB Green project, in which his company has developed the concept for the world's first air-supported 30 knot electric commuter ferry. Tudem claimed that, compared with diesel power, the vessel could cut annual energy costs by more than €400,000 on a typical service. A demonstrator due for launch in late October will be tested for two years in Sweden, Norway and The Netherlands.
Cees de Waal, managing director of Dutch service operator TESO, described the CNG battery hybrid ferry being delivered next year for the route between Den Helder and the island of Texel.  Designed for 'cost savings while greening the operation', the vessel features solar panels providing 10 percent of energy requirements, a heat recovery system and reduced hotel load consumption through the use of lighting sensors, energy saving lamps and high efficiency ventilation.
Source: Maritime Executive